Profile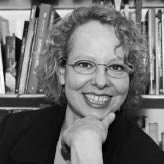 "Good graphic design reaches out to and moves the viewer. Important ingredients for this are analytical thinking, a passion for new ideas, and the ability to present complex matters simply."
Kattrin Richter
Having grown up in Portugal and Southern Germany, I studied fine arts at the Hochschule der Künste (University of Fine Arts) in Berlin. Over the next seven years I worked as an artist, and participated in numerous exhibitions both in Germany and abroad.

In 2003 I started the Studio for Graphic Design. Since then I have developed design solutions for companies, institutions, and associations, as well as for artists. In particular, I have an interest in subjects associated with contemporary art, design and architecture. However, I also concern myself with socio-political topics.

Besides working as a designer, I am involved with various institutions and firms as an instructor in the provision of further training in InDesign and Photoshop software.

I am a member of the Internationalen Design Zentrum IDZ in Berlin and of the Alliance of German Designers AGD.
Design as Everyday Culture
Grey winter days, dreary slab constructed housing, noise from traffic hubs, chaotic information, disrespectful people in the underground – all that can make life in Berlin difficult.

Good graphic design belongs to the bright spots in everyday life. Playing with the visually familiar, surprising motifs, and visual styles tears me away from routine, excites me, and makes me curious about the content.

To compose visual elements that are new, different, and relevant to the task in hand is always a challenge. Information, content, and narratives form the beginning of the design. Colours, forms, and proportions provide structure and set accents. Typography, graphics, and photography bring a special feel into the design. For all detailed work: Only after we have agreed everything together can we generate a convincing solution.